WELCOME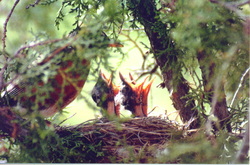 We are a group of volunteers who raise money for Wildlife Rehabilitation. Wildlife Rehabilitation is the helping of sick, injured or orphaned wildlife. Currently, Wildlife Rehabilitators do not receive money for what they do.They are all volunteers and pay for almost everything out of their own pocket. There is no government funding for these individuals unless they are with a large organization. Wildlife Rehabilitators even have to register with the Division Of Wildlife every year to be Licensed Wildlife Rehabilitators. Right now this is all funded through their own money and what little donations each individual receives. Our main goals are to raise money for Wildlife Rehabilitation and Rescue and to help reduce the impact of humans on Wildlife through public awareness. This will be funded through Public Donations .

We ourselves at
CASH FOR CRITTERS
do not do Wildlife Rehabilitation.

"In a society of growing numbers, the natural environment of wildlife is being diminished. Animals are constantly being forced into contact with humans. As a result there is a growing need for Wildlife Rehabilitation."
Please, Help Us Help Wildlife!
---
Cash For Critters Ebay Store

Cash For Critters is a registered 501(c)(3) nonprofit organization #34-1967029
Copyright © 2000-2016 Any unauthorized use of any content on these pages without the written consent of Cash For Critters is prohibited